Cahier n° 2
DÉCLARATIONS DE PARIS / STATEMENTS FROM PARIS
par / by  Jonas Mekas
Jonas Mekas s'est rendu de nombreuses fois à Paris, pour plaider la cause du cinéma expérimental comme présenter ses propres films. Ses apparitions parisiennes ont souvent fait l'occasion d'entretiens ou d'interventions décisives, dont un certain nombre sont reprises ici, dans lesquelles il exprime quelques concepts forts sur le cinéma, tant politiques qu'esthétiques.
Jonas Mekas has been to Paris many times, as much to plead the cause of experimental cinema as to show his own films. His appearances here have often been noticed, affording an opportunity for interviews or decisive events. Some of these have been included here: in them he expresses some of his stronger positions on cinema, both political and esthetic.
Bilingue (français-anglais). Text in English.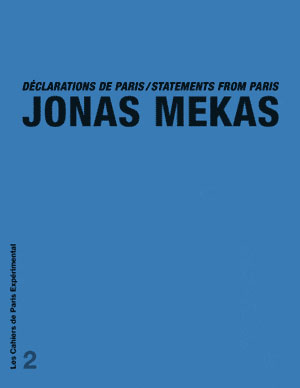 Spécifications de l'ouvrage :
Collection : Cahiers de Paris Expérimental
N° du cahier : 2
Date de parution : Octobre 2001
Nbr. de pages : 32
Nbr. d'illustrations : –
Format : 22 x 17 cm
ISBN : 2-912539-02-1
Prix : 9 €
EPUISE / SOLD OUT 
DISPONIBLE EN PDF / AVAILABLE IN PDF
nous contacter à / Contact us at:
order@paris-experimental.fr