Cahier n° 3
AFRIQUE 50
par René Vautier
Le texte dénonciateur et virulent du commentaire dit par René Vautier, édité pour la première fois, est accompagné d'un découpage photographique de ce premier film anti-colonialiste français,  » icône  » du cinéma d'intervention sociale. Postface de/by Christian Lebrat.
This first edition of the denunciatory and virulent text of René Vautier's spoken commentary is accompanied by shot by shot illustrations of this first French anti-colonial film,  » icon  » of a cinema of social intervention. Postface by Christian Lebrat.
Bilingue (français-anglais). Text in English.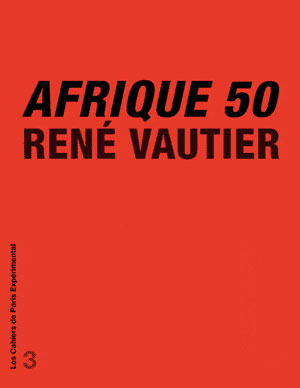 Spécifications de l'ouvrage :
Collection : Cahiers de Paris Expérimental
N° du cahier : 3
Date de parution : Octobre 2001
Nbr. de pages : 40
Nbr. d'illustrations : 38
Format : 22 x 17 cm
ISBN : 2-912539-03-X
Prix : 9 €
EPUISE / SOLD OUT 
DISPONIBLE EN PDF / AVAILABLE IN PDF
nous contacter à / Contact us at:
order@paris-experimental.fr