A NOUVEAU DISPONIBLE / AVAILABLE ONCE AGAIN
LE LIVRE DE WALDEN
par Christian Lebrat & Pip Chodorov
A partir du découpage du film, une exploration systématique des plans, séquences, situations, personnages inclus dans Walden (1969) de Jonas Mekas.
En préliminaire, deux textes de David E. James et Jean-Jacques Lebel. Bibliographie. index.
Livre accompagnant la première sortie européenne de Walden en cassettes VHS par Re:Voir vidéo, désormais disponible indépendamment du coffret d'origine, épuisé.
—————————————–
THE WALDEN BOOK
by  Christian Lebrat & Pip Chodorov
By following each cut in the film, this book is a systematic exploration of the shots, sequences, situations and characters included in the film Walden (1969) by Jonas Mekas.
Includes a preface with two texts, one from David E. James and and a second by Jean-Jacques Lebel, as well as a bibliography and index.
This book accompanied the first European release of Walden on VHS published by Re:Voir Video, now available apart from the original boxset, which is now out of print.
---
Presse / Press:
Associé à Re:Voir, Paris Expérimental publie, en 1997, Le livre de WALDEN pour accompagner la sortie en coffret du film homonyme de Jonas Mekas. C'est un découpage annoté du film, entrecoupé du choix des meilleurs textes de théoriciens, cinéastes ou poètes, américains ou français pour la plupart, consacrés à l'un des plus beaux films du monde.
Un livre littéralement infini : à reprendre depuis le début quand touche sa fin…
Guillaume BASQUIN, « Eloge de Paris Expérimental », in Trafic 95, Automne 2015
In collaboration with Re:Voir, Paris Expérimental published, in 1997, The Walden Book to accompany the release of a boxset of the homonymous film by Jonas Mekas. It is an annotation of each cut in the film, interspersed with a selection of the best texts by theorists, filmmakers and poets, mostly American or French, devoted to one of the most beautiful films in the world.
A literally infinite book: to pick up at the point where the beginning reaches its end …
Guillaume BASQUIN, « Eloge de Paris Expérimental », Trafic 95, Fall 2015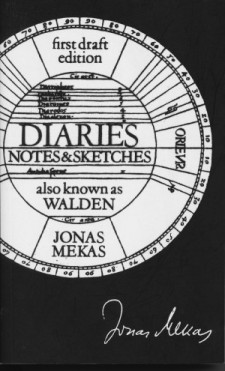 Spécifications de l'ouvrage :
Collection : Hors Collection
Coédition : Paris Expérimental & Re:Voir Vidéo
Date de parution : 2003 (2ème éd. – Second print)
Nbr. de pages : 146
Format : 15 x 10 cm
Prix : 20 €
Choisissez votre version / Choice your version
VERSION FRANCAISE
ISBN : 978-2-912539-52-6
ou / or
ENGLISH VERSION
ISBN : 978-2-912539-53-3
Distribué par / Distributed by Paris Expérimental
Nous contacter / Contact us:
order.paris-experimental@numericable.fr